Bathroom Remodeling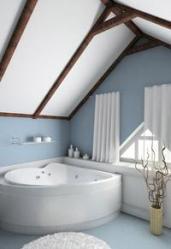 When remodeling your bathroom, the first step, and the most important, is choosing a contractor you can trust. Many companies perform substandard work, overcharge, change their names frequently to stay under the radar, or all of the above. At Tango Plumbing and Heating our commitment is to set the standard for quality of craft and service in all projects, big or small.
We are a full-service bathroom remodeler, and that means that we have brought together expertise across several disciplines, including plumbing, electrical work, lighting, and construction, to create a cost effective and efficient process for installing your dream bathroom.
When you choose Tango Plumbing and Heating for your bathroom renovation needs, you can always rest assured that:
• We will never add any hidden fees - the initial quote will be the all-inclusive final price.
• We will meet any special requests.
• We will supervise every phase of the renovation, from delivery to cleanup
Why Choose Tango Plumbing and Heating?
• Over 40 Years Experience
• Fully Insured/Licensed
• References Available
• Prompt Project Completion
• Project Planning Assistance
For more information or to receive a free consultation, please contact us at today 781-267-7562.