Water Heaters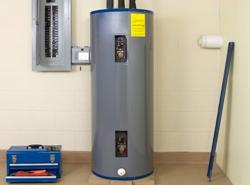 Aside from poor performance and high energy costs, many potential dangers can result from improper water heater installation. That's why choosing the right plumbing contractors can make all the difference. If your water heater is broken or in need of maintenance, our licensed expert technicians can often schedule an appointment and have the problem fixed the very same day. Our plumbers know all about conventional gas and electric water heaters, as well as newer tankless water heaters.

Don't stress over water heater repairs, either. We will take plumbing problems off your back. You may purchase a water heater through us or pick up one from the supplier of your choice and hire us to install it.
When having your water heater repaired or replaced by Tango Plumbing & Heating you can expect:
Free Quotes & Same Day Service
Option of LP gas, Natural Gas, Solar, and Electric Water Heater Systems
Delivery of New Water Heater
Removal and Disposal of Old Water Heater
Installation by Only Skilled Licensed Contractors
Post-Installation Inspection
Post-Installation Clean Up
Project Supervision Throughout Every Stage of the Process
Every Safety Precaution Will Be Taken to Prevent Potential Hazards in the Future
Call the professionals at Tango Plumbing and Heating to schedule a heating system inspection now, before everyone else does. We provide free phone consultations and on-site quotes to provide you with the best options suited to your needs and budget.